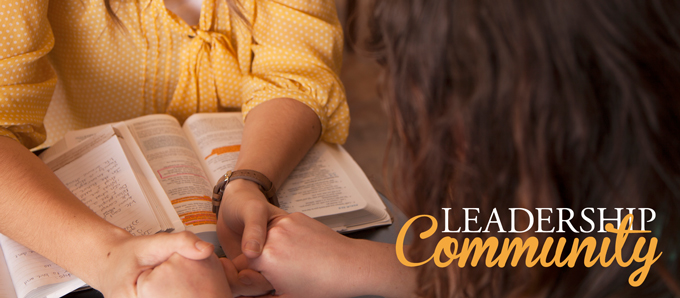 Keeping Company with Jesus in a Leadership Community: A nine-month online spiritual formation journey for Christian leaders in community.
The Leadership Community is for credentialed ministers, ministry leaders, pastor's wives, and missionaries, connecting with other leaders in authentic community over a nine-month period. The Leadership Community is designed to provide spiritually enriching environments through real-life practices, relationships and experiences that allows leaders to participate with God's Spirit in bringing about the formation of a healthy soul and developing practices that sustain them in ministry for the long haul.Burnout statistics among ministers are staggering and depressing.

Developing and maintaining spiritual health is a chief concern for Christian leaders who want to stay vital in ministry. We have all seen (or maybe even experienced) the fallout of burnout. It crosses denominational lines and leaves shattered lives and truncated ministries in its wake. It seems obvious in the sacrificial work of ministry that the care of the minister's soul is tantamount. Yet too often it is the most neglected. It is vital for spiritual leaders to be people who are ministering from their own place of encounter with God that they might offer those they serve something real and life-giving.
Why should I consider joining a leadership community?
A Leadership Community group is much different than a normal small group or Bible study. The focus is on our journey
with
God
rather than on learning things about God
. This isn't about mastering a method, but seeking relationship. Our goal is to seek the company of Jesus and learn to abide in such a way that Christ himself would become the shaping influence in your life and ministry.

This happens in a variety of ways:
We will read and dialogue through Sacred Rhythms by Ruth Haley Barton as well as countless articles to establish a Biblical grounding and a working knowledge of how spiritual transformation happens in our lives.



We will explore and practice a variety of spiritual disciplines that keep our hearts attentive, open, and surrendered to the already ongoing work of the Holy Spirit making us more like Jesus.




"Being with" one another in authentic community becomes the context of your transformation and, hopefully, becomes a rich, highlight of your journey and the relationships forged would remain long after your group ends.




We become like Jesus as we learn to abide in such a way that we enter into an intentional, deeply-held, interactive friendship with Jesus; being with him so as to become like him.
What will I get from the leadership community?
Ongoing weekly personal interaction and instruction from Gail Johnsen.



Resources such as:

Weekly stimulating online assignments, which include reading, reflection questions, and a spiritual practice

Countless handouts and articles

Resources for spiritual practices

Book list for additional reading

Complete instructions and materials for a personal retreat.




Accountability to a peer group and a learning culture with other like-minded leaders.




Ongoing weekly dialogue in authentic community.




Two online Google Hangout retreats with Gail.




Key spiritual tools that will assist you on your life-long spiritual journey.




The potential to live and minister from a place of soul health and offer those you serve something life-giving and sacred.
What must I bring to the group?
A maturity of faith and understanding of the Christian spiritual life, a willingness to put aside preconceived ideas of what the spiritual life looks like, acknowledging we've not yet experienced all that God has for us, and a desire to grow in your knowledge and experience of Christ in deeper more meaningful ways.




It is above all a shared journey. This means participants must be willing to grow in self awareness and self disclosing, living in vulnerably and authentically with those in your co-hort.




Participation in weekly online dialogue and interaction with your cohort.




Commitment to personal practice of the spiritual disciplines.



Required reading of Sacred Rhythms: Arranging Our Lives for Spiritual Transformation by Ruth Haley Barton (do not read ahead of time).
What is the cost?
Upon acceptance into the program (there is no cost to submit an application), the total cost is $400
. These costs include:
A non-refundable registration fee of $100 to secure your spot.

Tuition cost of $300.
Note: Partial scholarships are available upon
request
based on need and availability.
Schedule
The current Leadership Community begins on Monday, September 28, 2015.
Where should I start?
Click on the "Apply Here" button below to submit an application (there is no financial commitment until you have been accepted into the program). Space is limited and we reserve the right to refuse acceptance based on space and/or application. You will be notified of your acceptance via email and sent a link where you can make your deposit and payment.

If at any point you have questions regarding this nine-month leadership community, please don't hesitate to contact me.

Refund policy
50% refund for up to 30 days. No refund after 30 days.